Giving your bedroom a new look doesn't necessarily mean demolishing and building again. Proper planning and having a design in mind help you transform your bedroom without significant changes on the structure. Whenever you are planning to remodel your bedroom, there are critical issues to keep in mind. First, you have to think about the areas you want to change so that you give your bedroom a new look. Is it the lighting? Is it the walls? Making it noise-proof? It all goes down to what you want.
The style you want to adopt for your bedroom should also be considered. For a bright interior, think of painting the walls brightly or spicing the interior with gorgeous pieces of art. Also, know your limits in terms of the budget to be involved and the components that can be used in the process of remodeling.
Here are tips to guide you when remodeling your bedroom:
1. Organize And Purge

In any remodeling process, organizing beforehand makes everything easy and move smoothly. Planning gives you a clear picture of what you should get rid of in case of a cluttered bedroom. If you want to add a study space where you can read from before bedtime, you will need to create space for a table or bookshelf on the walls.
Creating space may also mean that you have to go through your closet to get rid of any clothes that are no longer appealing to you. Sorting out old footwear and coats may also be vital in making your space look neater and more comfortable to work on. Getting rid of any mismatched sheets and excess towels should also be part of organizing the bedroom space.
2. Work On The Walls
For parts whose sight strike the eyes first, like the walls, making them a priority when remodeling your bedroom is not an option. Walls are critical in changing the general outlook of the bedroom as well as the mood of the space. It is essential to make your walls look soothing by painting them with a color that enhances your desired ambiance. Choosing a color that sets a warm atmosphere is vital in making your bedroom feel like a cozy and comfortable space, just as it should be.
3. Change The Window Coverings
Rugs may work perfectly for your living room, but when it comes to the bedroom, window coverings are the pieces that make all the difference. Bedroom spaces are often taken up by various furniture, including the bed. The eyes tend to focus on the area above the bed, and this is where the window coverings can work their magic. For curtains that are meant to block the morning light, thick materials such as velvet and cotton with light colors are perfect choices.
4. Hang Art On The Wall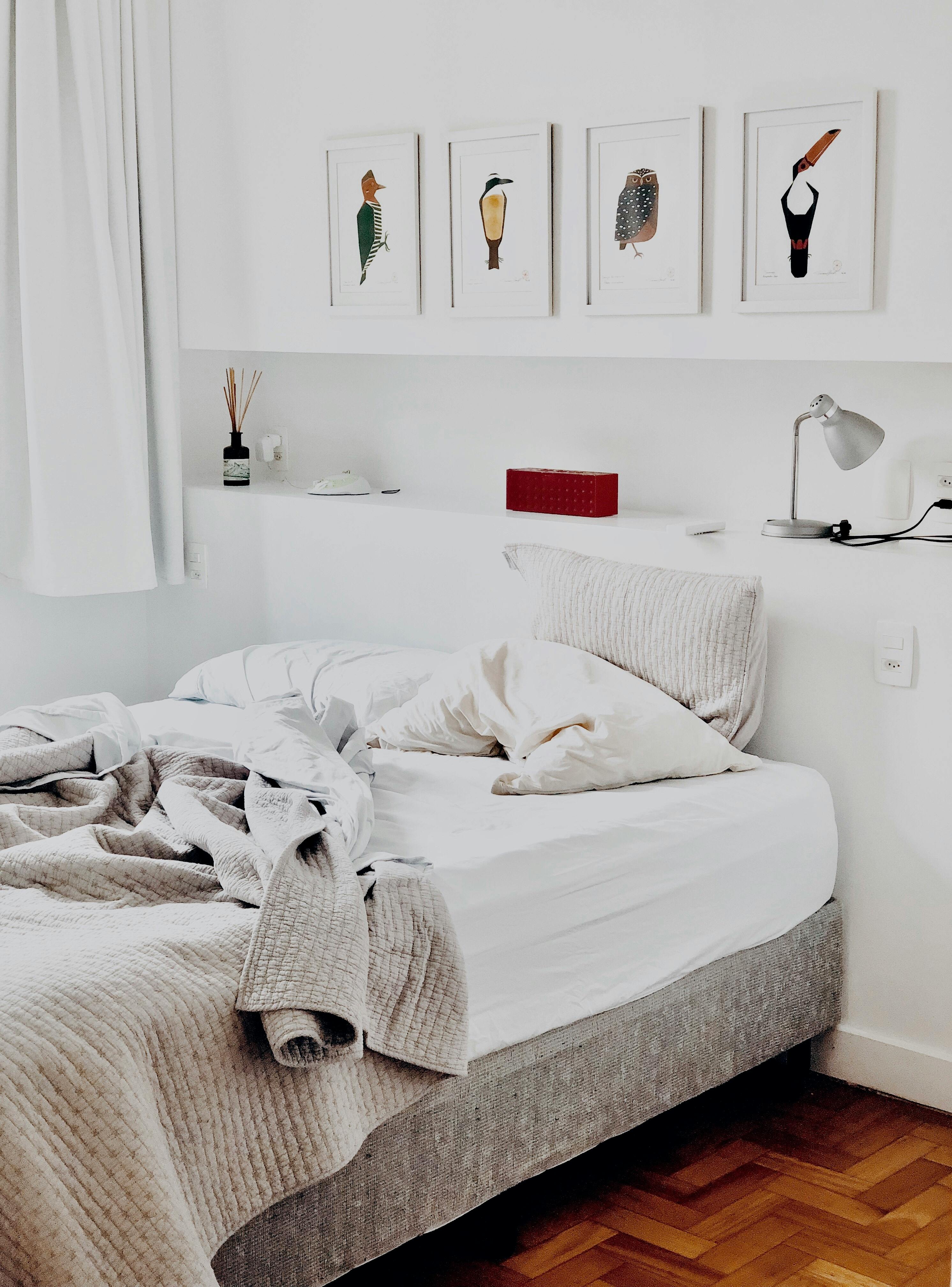 Art pieces are essential in revitalizing the look of your bedroom. Hanging silk rugs or paintings on the walls turns the bedroom into a beautiful space. Adding pieces of art, such as sculptures to the bedroom space, is also a great way of giving it a new look.
Remodeling the bedroom space may also involve choosing the appropriate linen that gives your space that comfortable feel. Choosing the right size for bedroom furniture is also critical in remodeling your bedroom. Fitting your bedroom with dim lighting reduces glare while the lamps also play an essential role in beautifying the bedroom space.